Article successfully added.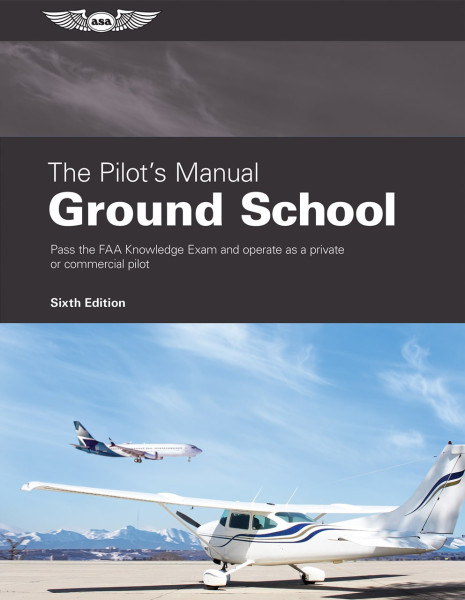 Prices incl. VAT plus shipping costs
Ready for shipment: Delivery within 1-3 workdays
Attention:
Spare vom 01. bis 31.12.2023 die Versandkosten!
*1
Aktion Ready for Christmas 2023
Bestellungen, die vom 01. bis 31. Dezember 2023 auf www.eisenschmidt.aero und www.aviation-training.aero erfolgen, werden versandkostenfrei versendet. Folgende Bedingungen müssen dafür erfüllt sein: Warenkorbwert von mind. 15 €, Versendung innerhalb Deutschlands, Bestellung von Endkunden und Flugschulen (keine Händler), nur Standard Brief- und Paketversand (kein Express- und Speditionsversand).
*1 Offer valid until 31/12/2023
Before taking to the sky, a pilot's education begins on the ground. For over 30 years, The...
more
Before taking to the sky, a pilot's education begins on the ground. For over 30 years, The Pilot's Manual: Ground School has introduced pilots to aerodynamics, airplane systems and flight instruments, human factors, weather, and flight operations. This textbook provides everything a pilot needs to know to earn a Private Pilot or Commercial Pilot Certificate.
The sixth edition of Ground School covers all the required knowledge tested on the private and commercial FAA Knowledge Exams and the oral portion of the practical exam (checkride). With text supported by hundreds of full-color images, students will gain a detailed understanding of complicated topics such as airplane and airport operations, regulations, human physiology in flight, reading charts, navigation and airspace, operational weather factors, flight planning, and more. This edition has been updated to introduce readers to advances in aviation fuel, battery technology, and improved weather services available to pilots.
Pilots seeking their Commercial Pilot Certificate will find clearly labeled and separated sections throughout this book to prepare them for the Commercial Pilot FAA Knowledge Exam. Each chapter concludes with study questions to aid home or classroom study. Answer keys and an extensive glossary of aviation acronyms are included.

Foreword by Barry Schiff. This book is part of The Pilot's Manual Series—used by leading universities as their standard classroom texts.
Also available in The Pilot's Manual Series:
Flight School—Master the flight maneuvers required for private, commercial, and instructor certification
Instrument Flying—Earn an Instrument Rating and safely fly under IFR and in IMC
Multi-Engine Flying—Add a Multi-Engine Rating to your pilot certificate
Airline Transport Pilot—Complete the ATP CTP and become an aviation professional
| | |
| --- | --- |
| Book style: | Hard-back |
| Flight rule: | IFR, VFR |
| Manufacturer / Publisher: | ASA |
| Licences: | CPL, PPL |
| Medium: | Paper / Book / Magazine |
| Sport: | Engine powered flight |
| Language: | English |