Article successfully added.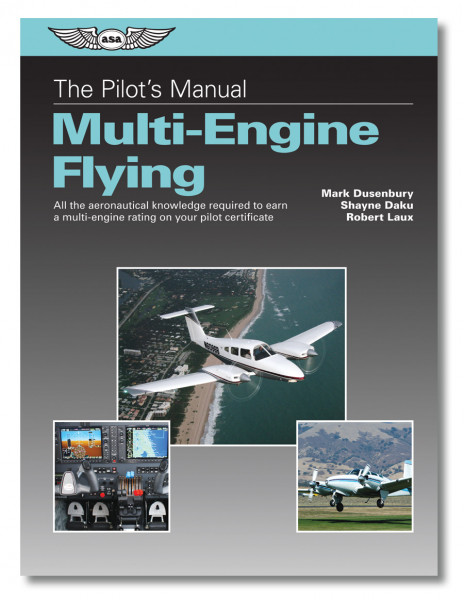 Quantity
Unit price
To

19

€38.17 *
From

20

€34.36 *
Prices incl. VAT plus shipping costs
Ready for shipment: Delivery within 1-3 workdays
Attention:
Spare vom 01. bis 31.12.2023 die Versandkosten!
*1
Aktion Ready for Christmas 2023
Bestellungen, die vom 01. bis 31. Dezember 2023 auf www.eisenschmidt.aero und www.aviation-training.aero erfolgen, werden versandkostenfrei versendet. Folgende Bedingungen müssen dafür erfüllt sein: Warenkorbwert von mind. 15 €, Versendung innerhalb Deutschlands, Bestellung von Endkunden und Flugschulen (keine Händler), nur Standard Brief- und Paketversand (kein Express- und Speditionsversand).
*1 Offer valid until 31/12/2023
Multi-engine flying opens up new opportunities to utilize an airplane for personal or...
more
Multi-engine flying opens up new opportunities to utilize an airplane for personal or professional transportation, allowing you to cruise faster, carry more passengers or cargo, and in most cases, fly higher and in greater comfort. With this enhanced capability comes an increased complexity in the aircraft systems, their operations and performance, and pilot decision-making.

The Pilot's Manual: Multi-Engine Flying covers the differences between these aircraft and their single-engine counterparts, providing detailed instruction on systems, aerodynamics, and performance. With reference to the most widely flown light twin training aircraft, as well as cabin-class, pressurized multi-engine aircraft that operate Part 135 and Part 91, the authors cover everything needed for pilots to earn a multi-engine rating using real-world scenarios and examples.

Each chapter details the objectives and key terms involved, with descriptions of the systems supported with full color illustrations, an overview of how the pilot interacts with the systems during aircraft operations, and possible emergencies specific to those systems. Review questions conclude the chapters to deepen understanding and apply the material. Tying together systems knowledge, checklist protocol, and aeronautical decision making as taught in this book, a multi-engine pilot can be confident of achieving mastery of the aircraft.
| | |
| --- | --- |
| Book style: | Soft-cover |
| Flight rule: | IFR, VFR |
| Manufacturer / Publisher: | ASA |
| Medium: | Paper / Book / Magazine |
| Sport: | Engine powered flight |
| Language: | English |