Article successfully added.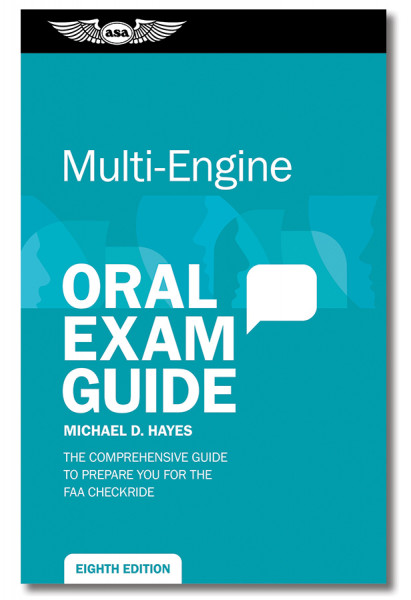 Quantity
Unit price
To

19

€11.20 *
From

20

€10.08 *
Prices incl. VAT plus shipping costs
Currently not available. Available soon unless it is out of stock. Please contact our Customer Support.
Englischsprachiges Buch: Written to help prepare applicants for their oral exams with FAA...
more
Englischsprachiges Buch:
Written to help prepare applicants for their oral exams with FAA examiners. Using a question-and-answer format, each Oral Exam Guide lists the questions most likely to be asked by examiners and provides succinct, ready responses. This guide features an Appendix written to help you "Know Your Aircraft" — an excellent tool for transition or orientation to a new make/model twin.
Pilots will find these Guides indispensable tools in both planning for what to expect during the airplane checkride, and mastering the subject matter. Instructors rate them as excellent preparation for students, as well as preps for Instrument Proficiency Checks (IPCs), aircraft transitions, and as general refresher material.
Geschrieben, um AnwärterInnen auf ihre mündlichen Prüfungen mit FAA-Prüfenden vorzubereiten. Jeder Oral Exam Guide listet in einem Frage-Antwort Format die Fragen auf, die von den Prüfenden am ehesten gestellt werden könnten, und liefert bündige, fertige Antworten. Dieser Leitfaden enthält einen Anhang, der Ihnen helfen soll, Ihr Flugzeug zu "verstehen" - ein ausgezeichnetes Hilfsmittel für den Wechsel oder für Orientierung zu einem neuen Hersteller/Modell zweimotoriger Flugzeuge. PilotInnen werden diese Guides als unverzichtbare Hilfsmittel sowohl bei der Planung dessen, was sie während des Checkrides erwartet, als auch bei der Beherrschung des Themas empfinden. Die InstruktorInnen bewerten die Bücher sowohl als ausgezeichnete Vorbereitung für FlugschülerInnen als auch als Vorbereitung für Instrument Proficiency Checks (IPCs), Mustereinweisungen und als allgemeines Auffrischungsmaterial.
| | |
| --- | --- |
| Book style: | Soft-cover |
| Manufacturer / Publisher: | ASA |
| Medium: | Paper / Book / Magazine |
| Language: | English |