Article successfully added.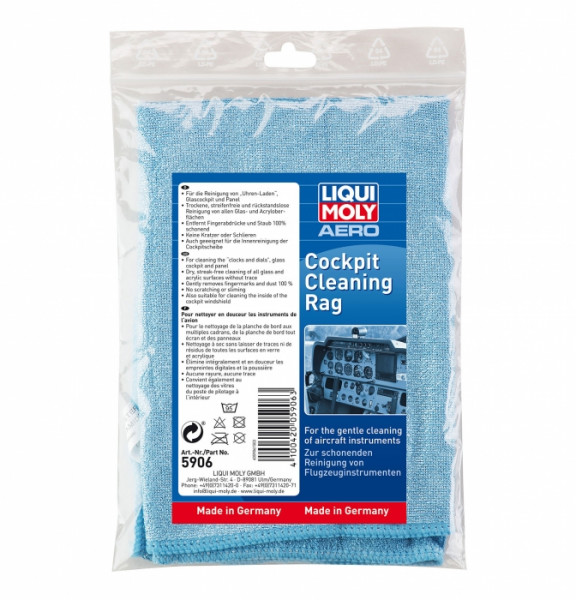 Prices incl. VAT plus shipping costs
Ready for shipment: Delivery within 1-3 workdays
Attention:
Spare vom 01. bis 31.12.2023 die Versandkosten!
*1
Aktion Ready for Christmas 2023
Bestellungen, die vom 01. bis 31. Dezember 2023 auf www.eisenschmidt.aero und www.aviation-training.aero erfolgen, werden versandkostenfrei versendet. Folgende Bedingungen müssen dafür erfüllt sein: Warenkorbwert von mind. 15 €, Versendung innerhalb Deutschlands, Bestellung von Endkunden und Flugschulen (keine Händler), nur Standard Brief- und Paketversand (kein Express- und Speditionsversand).
*1 Offer valid until 31/12/2023
For gentle cleaning of aircraft instruments and cockpits. Special development for...
more
For gentle cleaning of aircraft instruments and cockpits.
Special development for aircraft and helicopters from LIQUI MOLY.
Unsuitable cloths or even paper leave the finest scratches on the surfaces. When liquid glass cleaners are used, liquid can penetrate the equipment and cause fatal damage.
LIQUI MOLY AERO Cockpit Cleaning Rag:
is suitable for cleaning the "clock store", glass cockpit and panel
ensures dry, streak-free and residue-free cleaning of all glass and acrylic surfaces
removes fingerprints and dust 100 % gently
does not leave scratches or streaks
is also suitable for cleaning the inside of cockpit windows
Packaging unit for shipyards and distributors: 10 pieces
LIQUI MOLY AERO Cockpit Cleaning Rag is specially formulated to meet the needs of general aviation.
Contents: 1 piece
Scope of delivery
1 piece