Article successfully added.
Flying in the USA
(Order No.: S5499111)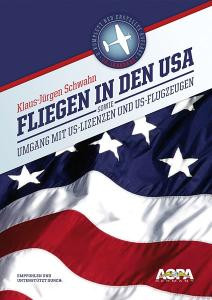 Prices incl. VAT plus shipping costs
Ready for shipment: Delivery within 1-3 workdays
Attention:
Spare vom 01. bis 31.12.22 die Versandkosten und nutze die Chance auf einen tollen Gewinn!
*1
Aktion Ready for Christmas 2022
Bestellungen, die vom 01. bis 31. Dezember 2022 auf www.eisenschmidt.aero und www.aviation-training.aero erfolgen, werden versandkostenfrei versendet. Folgende Bedingungen müssen dafür erfüllt sein: Warenkorbwert von mind. 5 €, Versendung innerhalb Deutschlands, Bestellung von Endkunden und Flugschulen (keine Händler), nur Standard Brief- und Paketversand (kein Express- und Speditionsversand). 
Jeder Kunde, der in diesem Zeitraum online bestellt oder im Ladengeschäft in Egelsbach einkauft, nimmt automatisch an einem Gewinnspiel teil. Jeder Kunde im Dezember landet einmal im Lostopf, d.h. mehrfache Bestellungen erhöhen nicht die Gewinnchance. 
Kunden im Laden können nur teilnehmen, wenn bei Kauf eine Rechnung mit Name und Adressdaten erstellt wurde. Es gelten unsere Teilnahmebedingungen für Gewinnspiele: https://www.eisenschmidt.aero/teilnahmebedingungen
Zu gewinnen gibt es folgende Preise: 
3 x je 1 ICAO-Wandkarte Deutschland (Ausgabe 2023) auf Alu-Dibond
5 x je 1 Eisenschmidt Regenschirm
Die ICAO-Wandkarten werden im März 2023 verschickt, die Regenschirme im Januar 2023.
*1 Offer valid until 31/12/2022
25 years ago the first edition of the "Flying Guide" was launched in the USA. Eight successful...
more
25 years ago the first edition of the "Flying Guide" was launched in the USA. Eight successful editions were published every two years. Professional requirements forced a break in 2001, so that the eighth edition, supplemented by current inserts, remained on the market until 2012. But since 2001 so much has changed that a new edition was finally due. With the 9th edition, a completely new book has been created. Today the Internet and modern communication technologies have replaced many things that were standard for pilots in 2001. Especially in the USA, offers have emerged that would have belonged to the realm of science fiction ten years ago. Many basic conditions have also changed. American general aviation is a 76 billion USD industry and European pilots still experience it as a paradise for training and flying holidays. But the fear of terrorist attacks occasionally forces us to adopt new behaviour patterns that must be observed. The American training system has been adapted to the requirements of modern GA aircraft and the latest findings from accident research and education. However, the procedures that holders of EU and US licences must follow when transferring their licences have also changed. In particular, the harmonisation and reinvention of European aviation law brings with it many changes that are hotly debated among pilots. The Guide to Flying in the USA describes the current facts and looks at the developments that can be expected in the near future. The European AOPA is involved in this development through various committees. As Vice President of the German AOPA, the author can therefore contribute a great deal of first-hand information. Operators of US registered aircraft will also find a valuable guide. In the end, the fun should not be neglected: For the flying holidays in Florida, there are 36 very personal tips for excursions as well as a chapter on flights to the Bahamas and across the Atlantic, so there is enough material for much more than just a flying holiday. If you come into contact with American licenses or aircraft, fly or train in the USA for business or private reasons, the 10th edition will again be a guide and valuable reference book.
| | |
| --- | --- |
| Book style: | Soft-cover |
| Medium: | Paper / Book / Magazine |