Article successfully added.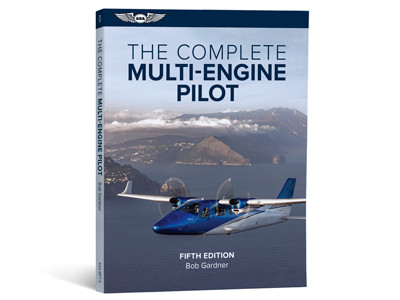 Quantity
Unit price
To

19

€22.90 *
From

20

€20.61 *
Prices incl. VAT plus shipping costs
Ready for shipment: Delivery within 1-3 workdays
Attention:
Spare vom 01. bis 31.12.2023 die Versandkosten!
*1
Aktion Ready for Christmas 2023
Bestellungen, die vom 01. bis 31. Dezember 2023 auf www.eisenschmidt.aero und www.aviation-training.aero erfolgen, werden versandkostenfrei versendet. Folgende Bedingungen müssen dafür erfüllt sein: Warenkorbwert von mind. 15 €, Versendung innerhalb Deutschlands, Bestellung von Endkunden und Flugschulen (keine Händler), nur Standard Brief- und Paketversand (kein Express- und Speditionsversand).
*1 Offer valid until 31/12/2023
Pilots learning multi-engine flying have relied on this essential book for more than 20 years....
more
The essentials of a complete multi-engine training program with study questions, written exam, and syllabus. Covers the aerodynamic fundamentals that govern multi-engine flight.
Pilots learning multi-engine flying have relied on this essential book for more than 20 years. Learn fundamentals of flying multi-engine airplanes and the aerodynamic laws that govern multi-engine flight under Bob Gardner's experienced and energetic tutoring. This fifth edition includes a new chapter on energy management and information on both obtaining the multi-engine rating and checking out in a new twin. An integrated flight and ground syllabus details the program for the rating and provides a sample written test, typical of the one used for new-aircraft checkouts. Also contains a complete library of FAA source material on multi-engine flight subjects. The Complete Pilot Series is designed for use in flight schools, for home study, and as a base for student kits.
From the Foreword by Barry Schiff: "By studying the principles Bob Gardner so eloquently discusses—and simplifies!—the challenging task of becoming a proficient and knowledgeable multi-engine pilot will become easier and more understandable."
Download The Complete Multi-Engine Pilot Syllabus to use with The Complete Multi-Engine textbook.
Instructors: Additional training aids to support your use of this book in the classroom are available at www.asa2fly.com/instructor/mpt
Also by Bob Gardner:
| | |
| --- | --- |
| Book style: | eBook, Soft-cover |
| Manufacturer / Publisher: | ASA |
| Medium: | App / eBook / PDF, Paper / Book / Magazine |
| Language: | English |