Article successfully added.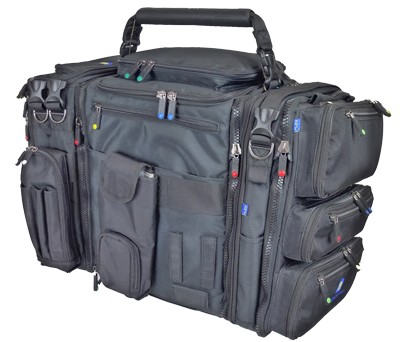 Prices incl. VAT plus shipping costs
Ready for shipment: Delivery within 1-3 workdays
Attention:
Spare vom 01. bis 31.12.2023 die Versandkosten!
*1
Aktion Ready for Christmas 2023
Bestellungen, die vom 01. bis 31. Dezember 2023 auf www.eisenschmidt.aero und www.aviation-training.aero erfolgen, werden versandkostenfrei versendet. Folgende Bedingungen müssen dafür erfüllt sein: Warenkorbwert von mind. 15 €, Versendung innerhalb Deutschlands, Bestellung von Endkunden und Flugschulen (keine Händler), nur Standard Brief- und Paketversand (kein Express- und Speditionsversand).
*1 Offer valid until 31/12/2023
The Brightline B18 HANGAR was designed primarily for aviators who need a Pilot Flight Bag to...
more
The Brightline B18 HANGAR was designed primarily for aviators who need a Pilot Flight Bag to pack multiple overnight items, such as clothes, shoes, coolers, etc. The B18 HANGAR fits the bill when maximum space is required. Also excellent for those in the Law Enforcement and Emergency Medical field.
Equipped with an arsenal of pockets, compartments and zippers you'll never run out of storage space!
The 5" Center Section comes with a divider shelf attaching to the side walls of the main compartment with Velcro. This shelf can be positioned right where you need it or removed for full access storing one or two headsets or GPS. Access is through a unique top zipper design that also opens the entire length allowing you to reach all the items above and below the divider shelf. On top of the bag is a pocket for sunglasses. The 11" Center Section swallows up multiple day's worth of clothes. In addition to clothes, the CS11 will carry a small cooler or helmet. Comes with two vertical divider shelves. If needed, you can organize a 13" laptop, documents, and clipboards. The 2" Center Section easily carries 13" laptops, some 14" laptops, tablets as well as documents, folders, clipboards, etc. The Brightline B18 Flight can be easily re-configured to be the any of the other Brightline configurations. It's like getting eight different bags in one. A Flight Bag or Travel Bag that can handle all your gear. Adaptable by adding or removing center sections as needed.
The bag is soft so it can expand slightly in every direction.
| | |
| --- | --- |
| Color: | Black |
| Manufacturer / Publisher: | BrightLine Bags |
| Material: | Nylon |