Article successfully added.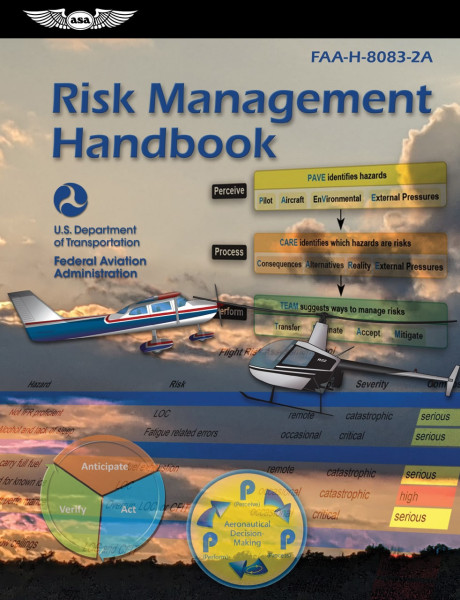 Quantity
Unit price
To

19

€19.95 *
From

20

€17.96 *
Prices incl. VAT plus shipping costs
Ready for shipment: Delivery within 1-3 workdays
Attention:
Spare vom 01. bis 31.12.2023 die Versandkosten!
*1
Aktion Ready for Christmas 2023
Bestellungen, die vom 01. bis 31. Dezember 2023 auf www.eisenschmidt.aero und www.aviation-training.aero erfolgen, werden versandkostenfrei versendet. Folgende Bedingungen müssen dafür erfüllt sein: Warenkorbwert von mind. 15 €, Versendung innerhalb Deutschlands, Bestellung von Endkunden und Flugschulen (keine Händler), nur Standard Brief- und Paketversand (kein Express- und Speditionsversand).
*1 Offer valid until 31/12/2023
This money-saving eBundle includes both the Risk Management Handbook softcover Book and eBook...
more
This money-saving eBundle includes both the Risk Management Handbook softcover Book and eBook PDF.
This FAA handbook provides tools to help pilots determine and assess each situation for the safest possible flight with the least amount of risk. Pilots who practice effective risk management have predetermined personal standards and have formed habit patterns and checklists to incorporate them. This handbook presents methods pilots can use to manage the workloads associated with each phase of flight, for a safer, more enjoyable and less stressful experience for both themselves and their passengers.
In the last 20 years, approximately 85 percent of aviation accidents have been caused by "pilot error"; often the result of a tendency in flight training to focus solely on the physical aspects of flying the aircraft. The certificated flight instructor (CFI) who integrates risk management into flight training teaches aspiring pilots how to be more aware of potential risks in flying, clearly identify those risks, and manage them successfully—for a solid understanding of how to avoid the most common pilot errors.
This full-color manual covers subjects such as human behavior, identifying and mitigating risk, aeronautical decision-making, single-pilot resource management, automation, and risk management training. Appendices contain checklists and scenarios to aid in setting personal minimums, sample risk management scenarios, and a CFIT (controlled flight into terrain) checklist.
| | |
| --- | --- |
| Book style: | Soft Cover |
| Ausgabe / Auflage / Jahr: | 2022 |
| Manufacturer / Publisher: | ASA |
| Material: | Paper |
| Language: | English |