Article successfully added.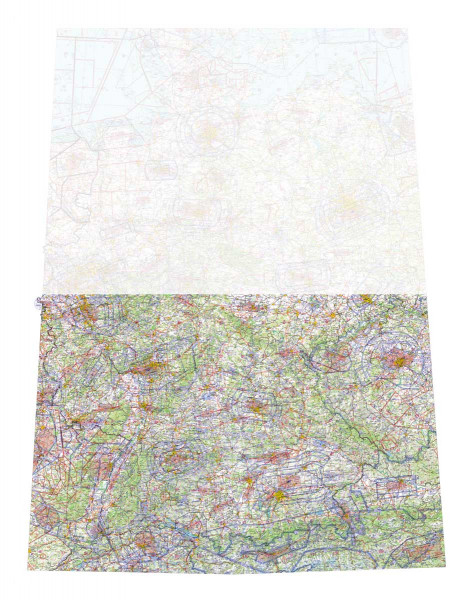 Graduated prices (DFS: ICAO+V500 charts)
You already have0articles of this price group in your cart.
Quantity
Unit price
To

19

€65.00 *
From

20

€58.50 *
From

50

€52.00 *
Prices incl. VAT plus shipping costs
Ready for shipment: Delivery within 1-3 workdays
Attention:
Spare vom 01. bis 31.12.2023 die Versandkosten!
*1
Aktion Ready for Christmas 2023
Bestellungen, die vom 01. bis 31. Dezember 2023 auf www.eisenschmidt.aero und www.aviation-training.aero erfolgen, werden versandkostenfrei versendet. Folgende Bedingungen müssen dafür erfüllt sein: Warenkorbwert von mind. 15 €, Versendung innerhalb Deutschlands, Bestellung von Endkunden und Flugschulen (keine Händler), nur Standard Brief- und Paketversand (kein Express- und Speditionsversand).
*1 Offer valid until 31/12/2023
Teil SÜD, Ausgabe 2023 Die ICAO-Wandkarte 1:500.000 Deutschland ist die ideale...
more
Teil SÜD, Ausgabe 2023
Die ICAO-Wandkarte 1:500.000 Deutschland ist die ideale Übersichtskarte für Ihre Schulungs- und Vereinsräume aber auch für Ihr zu Hause.
Die Luftfahrtkarte ICAO 1:500.000 ist die Standardkarte für die Durchführung von VFR-Flügen und umfasst das Gebiet der Bundesrepublik Deutschland einschließlich dem angrenzenden Ausland (mehrfarbig mit Waldaufdruck und Schummerung). Sie enthält alle wichtigen Topografie- und Flugsicherungsangaben wie z.B.:
Aktuelle Luftraumstruktur und Topografie
VFR-Meldepunkte
Flugplätze mit Namen, Ortskennung und Frequenz, Länge und Ausrichtung der Landebahn und Lage der Platzrunde
FIS-Sektoren mit Frequenzen
Segelfluggelände, Gelände für Hängegleiter und Ultraleichtflugzeuge,
Fallschirmabsprunggelände, Freiballonstartplätze
Funknavigationsanlagen (NDB, VOR, VOR/DME, VORTAC) mit Namen, Frequenz und Kennung im Morsecode
Luftfahrthindernisse und Maximum Elevation Figures
Isogonen
Autobahnbezeichnungen
Neue Darstellung intensiv genutzter Fallschirmsprunggelände (Fallschirmsprungsymbol plus roter Kreis)
Scope of delivery
Der Lieferumfang der ICAO-Wandkarte besteht aus 1 Kartenblatt (Teil Süd / die Abdeckung entspricht den Einzel-Blättern Frankfurt, Nürnberg, Stuttgart, München), das perfekt mit dem Nord-Kartenblatt zusammengeklebt werden kann. Die Karte ist foliert (plano) erhältlich.
| | |
| --- | --- |
| Ausgabe / Auflage / Jahr: | 2023 |
| Manufacturer / Publisher: | DFS Deutsche Flugsicherung |
| Country / Continent: | Germany |
| Scale: | 1:500.000 |
| Material: | Paper |
| Medium: | Paper / Book / Magazine |
| Sport: | Engine powered flight |