Article successfully added.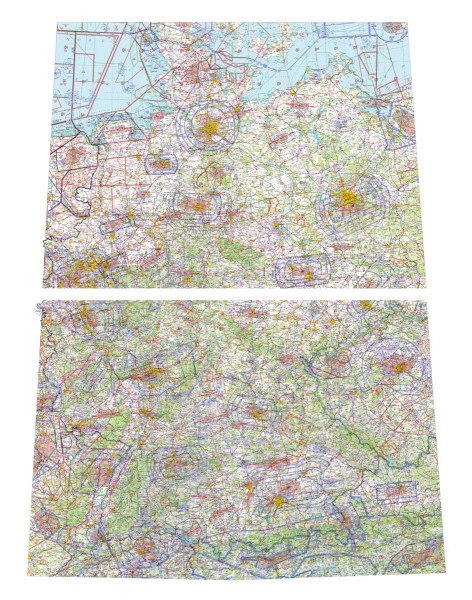 Graduated prices (DFS: ICAO+V500 charts)
You already have0articles of this price group in your cart.
Quantity
Unit price
To

19

€120.00 *
From

20

€108.00 *
From

50

€96.00 *
Prices incl. VAT plus shipping costs
Ready for shipment: Delivery within 1-3 workdays
Attention:
Spare vom 01. bis 31.12.2023 die Versandkosten!
*1
Aktion Ready for Christmas 2023
Bestellungen, die vom 01. bis 31. Dezember 2023 auf www.eisenschmidt.aero und www.aviation-training.aero erfolgen, werden versandkostenfrei versendet. Folgende Bedingungen müssen dafür erfüllt sein: Warenkorbwert von mind. 15 €, Versendung innerhalb Deutschlands, Bestellung von Endkunden und Flugschulen (keine Händler), nur Standard Brief- und Paketversand (kein Express- und Speditionsversand).
*1 Offer valid until 31/12/2023
Wallchart Germany, Edition 2023, 2 Sheets: The Aeronautical Chart ICAO 1:500,000 is the...
more
Wallchart Germany, Edition 2023, 2 Sheets: The Aeronautical Chart ICAO 1:500,000 is the standard chart used for executing VFR flights. It shows the territory of the Federal Republic of Germany and the surrounding countries.The chart contains all the important topography and air traffic control information such as:
Current airspace structure and topography
VFR reporting points
Aerodromes with name, location indicator and frequency, length and direction of the runway, information on direction finders and location of the traffic circuit
FIS sectors with frequencies
Glider sites, sites for hang gliders and ultralight aircraft,
Parachute landing areas, free balloon launch sites
Radio navigation aids (NDB, VOR, VOR / DME, VORTAC) with name, frequency and Morse Code identification
Obstacles and maximum elevation figures
Isogonals
Motorways with identification
High frequently used skydiving areas (parachute symbol plus red circle)
The backside of the ICAO Chart 1:500.000 includes the following information:
Overview of airspace structure
Transponder and altimeter settings
ATIS and VOLMET frequencies
Light signals
The entire aeronautical chart ICAO 1:500,000 Edition contains the following two sheets:
North-Germany
South-Germany
Scope of delivery
eine 2-teilige Wandkarte (Nord- und Südteil)
| | |
| --- | --- |
| Ausgabe / Auflage / Jahr: | 2023 |
| Manufacturer / Publisher: | DFS Deutsche Flugsicherung |
| Country / Continent: | Germany |
| Scale: | 1:500.000 |
| Material: | Papier mit Folie |
| Sport: | Engine powered flight |