Article successfully added.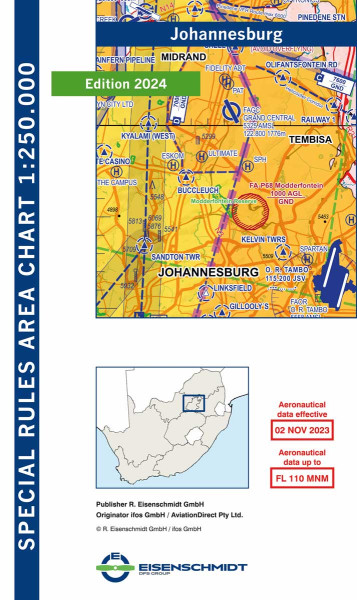 Graduated prices (ifos: V500)
You already have0articles of this price group in your cart.
Quantity
Unit price
To

19

€22.00 *
From

20

€19.80 *
From

50

€17.60 *
Prices incl. VAT plus shipping costs
Ready for shipment: Delivery within 1-3 workdays
Attention:
Spare vom 01. bis 31.12.2023 die Versandkosten!
*1
Aktion Ready for Christmas 2023
Bestellungen, die vom 01. bis 31. Dezember 2023 auf www.eisenschmidt.aero und www.aviation-training.aero erfolgen, werden versandkostenfrei versendet. Folgende Bedingungen müssen dafür erfüllt sein: Warenkorbwert von mind. 15 €, Versendung innerhalb Deutschlands, Bestellung von Endkunden und Flugschulen (keine Händler), nur Standard Brief- und Paketversand (kein Express- und Speditionsversand).
*1 Offer valid until 31/12/2023
Edition 2024, SRA Johannesburg 1:250,000: The SRA250 aeronautical chart is the first...
more
Edition 2024, SRA Johannesburg 1:250,000: The SRA250 aeronautical chart is the first aeronautical chart for South Africa that corresponds in its quality and design to the ICAO Germany 1:500,000 aeronautical chart and is therefore the optimum chart for VFR flights in South Africa.
In South Africa, so-called "Special Rules Areas" are defined for the highly frequented airspaces around Johannesburg and Cape Town, which permit VFR flights below the controlled airspace according to special rules. So called. TIBA zones (TIBA = "Traffic Information between Aircraft") allow these airspaces to be crossed on predefined routes at predetermined altitudes without contact with air traffic control centres. Separation is carried out by the pilots themselves on the basis of regular position reports on the various TIBA frequencies at predefined reporting points.


The SRA250 contains the latest and currently valid topography and air traffic control information, such as:


- VFR reporting points
- SRA transit routes
- SRA sectors with TIBA frequencies
- Aerodromes with name, location and frequency as well as runway length and orientation
- Radio navigation facilities (NDB, VOR, VOR/DME, VORTAC) with name, frequency and identifier in Morse code
- Aeronautical obstacles and maximum elevation figures
- Isogones
- Motorway designations
- Integrated coordinate ruler


The back of the map shows the following information:


- ATIS and NAVAID frequencies
- space frequencies
- OPS and MET phone numbers
- VFR reporting point coordinates
- routes and rules of the special rules area
- VFR semicircle altitudes and VFR transponder circuit
- information on the heigh measurement setting
- light signals
Edition 2024, Austria: The Aeronautical Chart V500 is the first aeronautical chart for the rest of Europe which corresponds in quality and design to the Aeronautical Chart ICAO 1:500,000 and is therefore the optimal chart for VFR flights to neighbouring countries. Due to the selected sheet layout, each neighbouring country is extensively illustrated on the country editions.
The V500 contains the latest and currently valid topography and air traffic control information such as
VFR reporting points
aerodromes with name, place name and frequency as well as length and orientation of the runway and location of the traffic circuit
Information on the aerodrome circuit, display of aerodrome heights
FIS sectors with frequencies
Gliding areas, hang gliders and microlight aircraft areas, parachute jump areas and balloon launch sites
radio navigation equipment (NDB, VOR, VOR/DME, VORTAC) with name, frequency and Morse code identification
Aviation Obstacles and Maximum Elevation Figures
Isogons
Motorway designations
Integrated coordinate ruler
The back of the card displays the following information:
ATIS and VOLMET frequencies
Semi-circular flight altitudes VFR and VFR remote control
Information on the altimeter setting
Light signals
| | |
| --- | --- |
| Ausgabe / Auflage / Jahr: | 2024 |
| Flight rule: | VFR |
| Manufacturer / Publisher: | R. Eisenschmidt GmbH |
| Country / Continent: | Afrika |
| Scale: | 1:250.000 |
| Medium: | Paper / Book / Magazine |
| Sport: | Engine powered flight |