Article successfully added.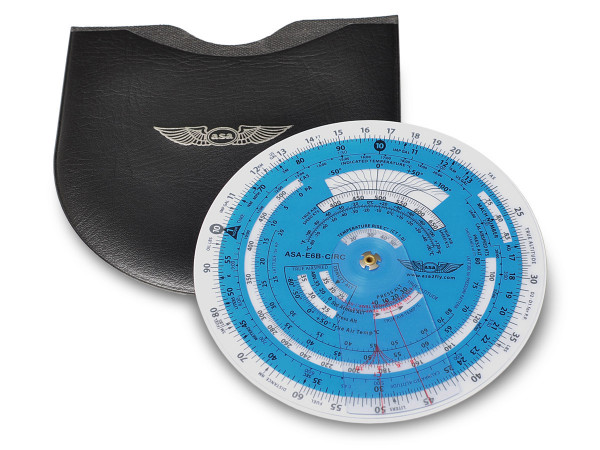 Prices incl. VAT plus shipping costs
Ready for shipment: Delivery within 1-3 workdays
Attention:
Spare vom 01. bis 31.12.2023 die Versandkosten!
*1
Aktion Ready for Christmas 2023
Bestellungen, die vom 01. bis 31. Dezember 2023 auf www.eisenschmidt.aero und www.aviation-training.aero erfolgen, werden versandkostenfrei versendet. Folgende Bedingungen müssen dafür erfüllt sein: Warenkorbwert von mind. 15 €, Versendung innerhalb Deutschlands, Bestellung von Endkunden und Flugschulen (keine Händler), nur Standard Brief- und Paketversand (kein Express- und Speditionsversand).
*1 Offer valid until 31/12/2023
The E6B Circular Flight Computer combines high-quality construction with easy-to-read lettering...
more
High quality, easy-to-read circular flight planning computer for performing flight calculations. Vinyl case and instruction booklet included.
The E6B Circular Flight Computer combines high-quality construction with easy-to-read lettering to deliver the most efficient, accurate, and convenient manual flight computer available. Perform multiple calculations ranging from basic arithmetic and flight planning problems to complex in-flight computations.
The calculator side of the computer uses conventional slide rule procedures to solve for multiplication, division, and unit conversion and employs scales for performing time, speed, distance, rate, fuel consumption, altitude, airspeed, air temperature, and pressure pattern calculations.
The wind side of the computer provides a graphic method of solving problems and displaying the answers in a useful form. Use the wind side for simple addition and subraction problems and also to solve for true wind, winds in flight, true course and ground speed, true heading and true airspeed, and off-course correction calculations. The matte finish on the wind side of the calculator can be marked with a pencil during use, and easly wiped clean to allow input for the next problem.
The E6B Circular Flight Computer is a great tool to use during flight planning, flight training or studying, and may be used during FAA written knowledge exams. Pilots flying faster aircraft at higher altitudes will find this computer useful in gaining insight to the external atmospheric conditions and the effects they have on in-flight performance.
| | |
| --- | --- |
| Manufacturer / Publisher: | ASA |
| Material: | Plastic |
| Language: | English |