Article successfully added.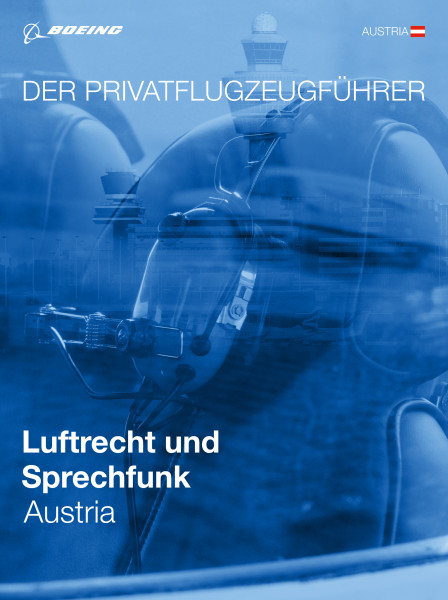 This product is currently not available.
Prices incl. VAT plus shipping costs
Currently not available. Available soon unless it is out of stock. Please contact our Customer Support.
The private pilot: Aviation law and radiotelephony AUSTRIA The fascination...
more
The private pilot: Aviation law and radiotelephony AUSTRIA
The fascination that flying exerts on people comes to a large extent from the idea of unlimited freedom above the clouds, which Reinhard Mey already sang about. But since no one is alone in the airspace today, it is essential for safe air traffic that all air traffic participants adhere to common rules. These rules are the subject of the textbook "Luftrecht und Sprechfunk Austria".
We start with a brief overview of the relevant agreements and organisations, and then deal with the airworthiness and registration of aircraft and the licensing of aviation personnel. Air traffic regulations and procedures are discussed in detail, as are the requirements for different categories of aerodromes. In addition, various national organisations are listed and differences between national law and ICAO requirements are discussed and the preparation of an ICAO flight plan is explained.
After an overview of abbreviations and definitions used in aviation, we look at general radiotelephony procedures and the regulations in the event of a communication failure. Afterwards, we will explain how to behave in case of emergency calls and other important broadcasts. The propagation of radio waves and frequency assignment are also briefly discussed.
The book series at a glance:
The innovative book series "Der Privatflugzeugführer" is a proprietary development from Peters Software GmbH and was created by recognized experts. Der Privatflugzeugführer is structured according to the EASA syllabus and thus represents an effective learning aid for exam preparation. At the same time, the series of reference books is also an optimal reference book for the experienced pilot and flight instructor.
With modern photos, photo-realistic graphics as well as film and audio sequences, the private pilot sets a new quality standard that has never been achieved before in Europe.
The book series consists of the following volumes:
Aviation law and radiotelephony
General Aircraft Science
Instrumentation
Flight Preparation Aircraft
Human performance
Meteorology
Navigation
Operational procedures
Aerodynamics Aircraft
The teaching material is also available in digital form and can be linked bidirectionally with the corresponding optionally available question catalogues (e.g. EXAM 11, PPL question catalogue, ...), i.e. for most questions a direct link to the relevant chapter of the teaching material is provided. With one mouse click you can go directly to the explanation without a long search. This link is also advantageous in the reverse sequence. For example, you can work through a chapter in the electronic teaching material and then click on the button "Questions about this" to display a list of all the examination questions stored for this specific subject area.
The combination of questions, solution tips, calculation methods and electronic teaching material results in a unique learning system that helps you to save a lot of time while learning, creates a deeper understanding and is therefore the ideal supplement to theoretical lessons and classic textbooks.
| | |
| --- | --- |
| Book style: | Soft-cover |
| Flight rule: | VFR |
| Manufacturer / Publisher: | Boeing Services Deutschland GmbH |
| Country / Continent: | Austria |
| Sport: | Engine powered flight |
| Language: | German |