Article successfully added.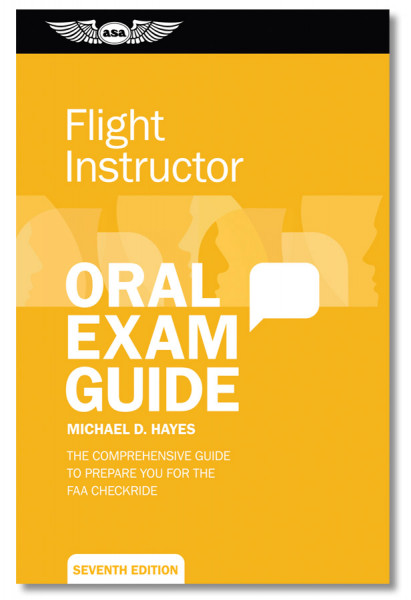 Quantity
Unit price
To

19

€11.20 *
From

20

€10.08 *
Prices incl. VAT plus shipping costs
Ready for shipment: Delivery within 1-3 workdays
Der auf den neue st en St and gebrachte Flight In st ructor...
more
Der auf den neuesten Stand gebrachte Flight Instructor Oral Exam Guide von Michael D. Hayes wurde geschrieben, um die BewerberInnen auf ihre mündliche Prüfung mit FAA-Prüfern vorzubereiten. Im Frage-und-Antwort-Format listet dieser Leitfaden die Fragen auf, die von den Prüfern am ehesten gestellt werden könnten, und liefert prägnante, fertige Antworten. Für Piloten ist dieser Leitfaden ein unentbehrliches Hilfsmittel, sowohl bei der Beherrschung der Thematik als auch bei der Planung dessen, was sie während der praktischen Prüfung erwartet.
Diese sechste Ausgabe für CFI-Anwärter enthält Fragen zu den "Fundamentals of Instruction" (Grundlagen des Unterrichtens), die die Themen aus dem FAA Aviation Instructor's Handbook (FAA-H-8083-9A) abdecken. Es werden die jüngsten Standards für praktische Prüfungen berücksichtigt, einschließlich der Flugmanöver "steep spiral" (Steilspirale) und "180-Grad-Power-Off Approach". Jeder Erklärung sind Verweise beigefügt, damit der Leser bei Bedarf weiter recherchieren kann. Diese überarbeitete Ausgabe enthält jetzt ein neues Kapitel über Szenariobasiertes Training von Arlynn McMahon (Autorin von "Train Like You Fly" und "Lesson Plans", die 2009 mit dem Flight Instructor of the Year Award und 2010 mit dem NATA Award for Excellence in Pilot Training ausgezeichnet wurde.
AusbilderInnen bewerten die "Oral Exam Guide" Reihe als ausgezeichnete Vorbereitung für FlugschülerInnen. Die Bücher in dieser Reihe sind nützlich für Mustereinweisungen und als allgemeines Auffrischungsmaterial.
Ebenfalls von Michael Hayes: Private Oral Exam Guide, Instrument Oral Exam Guide, Commercial Oral Exam Guide, Airline Transport Pilot Oral Exam Guide, Multi-Engine Oral Exam Guide.
| | |
| --- | --- |
| Book style: | Soft-cover |
| Medium: | Paper / Book / Magazine |
| Language: | English |