Article successfully added.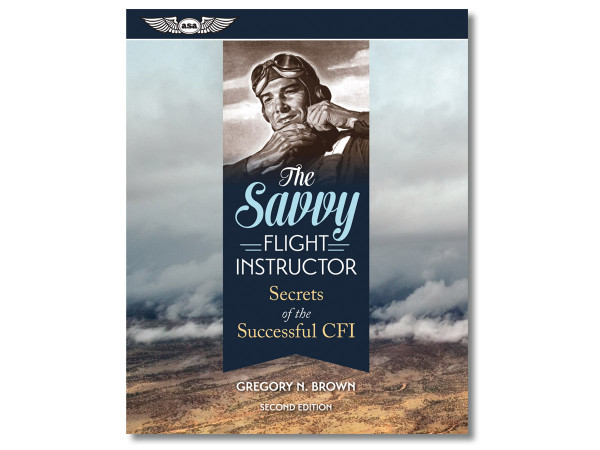 Quantity
Unit price
To

19

€22.95 *
From

20

€20.65 *
Prices incl. VAT plus shipping costs
Ready for shipment: Delivery within 1-3 workdays
Sie haben die Lernmaterialien des CFI studiert, Ihre bisher härteste mündliche Prüfung...
more
Sie haben die Lernmaterialien des CFI studiert, Ihre bisher härteste mündliche Prüfung bestanden, können Unterrichtspläne schreiben, die Details einer Lazy Eight erklären und vom rechten Sitz aus gleichzeitig reden und fliegen. Das ist alles, was Sie wissen müssen, um Flugunterricht zu erteilen... oder etwa nicht? Dieses Buch soll Ihnen bei all den anderen Fragen helfen, z.B. wie Sie neue FlugschülerInnen anwerben und sie zum Fliegen bringen, wie Sie erfolgreiche Einführungsstunden durchführen und wie Sie die Erfolgsquote Ihrer SchülerInnen beim Checkflug optimieren.
Diese Neuauflage fügt 20 Jahre Know-How zu den Netzwerk-, Pilotenausbildungs- und Kundenbetreuungskonzepten hinzu, die die Originalausgabe zur obligatorischen CFI-Lektüre machten, sowie wichtiges neues Material, das Sie nicht verpassen sollten. Angehende FluglehrerInnen werden erfahren, warum und wie man ein CFI werden kann und wie man eingestellt wird. Die Leserschaft wird lernen, wie man die heutigen PiloteninteressentInnen über Online-Marketing und soziale Medien überzeugen kann und wie man die Leistungen der Konkurrenz überbieten kann. Erfahrene FluglehrerInnen und FlugschulleiterInnen werden lernen, wie man Erfolg und Zufriedenheit der Kunden systematisiert, Preise und Struktur ihrer Dienstleistungen an die heutigen Märkte anpasst und wie man die Professionalität der FluglehrerInnen implementiert. Hier lernen Sie, wie Sie Ihre Lehrtätigkeit so einsetzen können, dass Sie die Erwartungen Ihrer SchülerInnen übertreffen, geschäftlichen Erfolg erzielen, die Allgemeine Luftfahrt fördern und Ihre persönliche Flugkarriere gleichzeitig vorantreiben.
Greg Browns Liebe zur Luftfahrt ist für jeden offensichtlich, der seine Kolumne "Flying Carpet" im AOPA Flight Training Magazin oder seine Bücher, wie z.B. The Turbine Pilot's Flight Manual, kennt. Greg Brown ist seit 1971 Pilot und seit 1979 CFI und war im Jahr 2000 National Flight Instructor of the Year und der erste Master-CFI überhaupt.
Mitwirkende AutorInnen sind Heather Baldwin, Berufspilotin und Marketingautorin, CFIs Jason Blair, ausgewiesener Prüfer für Piloten, Ben Eichelberger, Experte für die Standardisierung der Flugausbildung, Dorothy Schick, Inhaberin einer Flugschule und Marketing-Innovatorin, und Ian Twombly, renommierter Autor und Redakteur im Bereich der Flugausbildung.